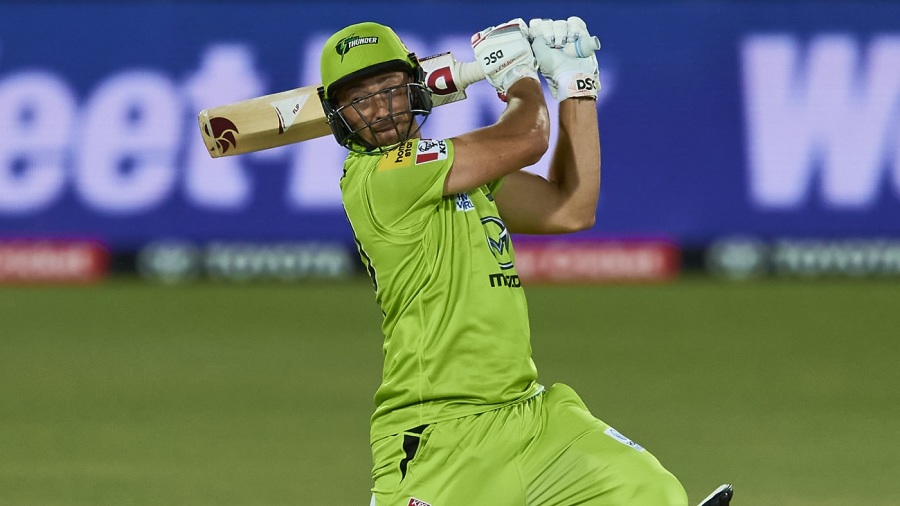 Sydney Thunder 6 for 180 (Sams 65*, Wildermuth 3-23) beat Brisbane Heat 6 for 179 (Lynn 69, Cook 2-31) by 4 wickets
An astonishing innings from Daniel Sams helped Sydney Thunder pull off a remarkable win over Brisbane Heat in Canberra.
Sams, who had never scored more than 42 in 35 innings in T20 cricket and had only struck 12 sixes in his career, smashed 65 not out from 25 balls with seven sixes to steal the game from the Heat. He had entered with the Thunder in all sorts of trouble at 5 for 80, needing 99 runs from 56 balls. But he found an ally in Ben Cutting and got some help from the Heat bowlers who delivered some perfect balls in the slot for Sams to launch over his favoured leg side.
Earlier, Sams had also picked up 2 for 32 with the ball to complete a brilliant all-round display. His efforts trumped Jack Wildermuth, who also produced a career-best for the Heat thrashing 31 from 11 after Chris Lynn had made 69 from 44 to help the Heat post 6 for 178. Wildermuth then zipped through the Thunder's top-order knocking over the prized trio of Alex Hales, Usman Khawaja, and Callum Ferguson to all-but put the game in the Heat's keeping. Unfortunately for Wildermuth, Sams had the final say.
Should Lynn open?
Lynn entered with a platform to work from after Max Bryant and Sam Heazlett had taken 37 from the first 3.2 overs. The opening pair had previously made just 19 in the four-over Powerplay against the Melbourne Stars. But given the shortness of the powerplay and the fact that the Power Surge can't be taken until after the 10th over, there is a thought that Lynn is neutralised in overs 5 to 10 which are dominated by spinners with five men out. Lynn struck a four and a six in his first eight balls but then didn't score another boundary for the next five overs with the leg-spin duo of Tanveer Sangha and Jono Cook bowling tidily. Cook picked up Bryant, who got bogged down. After scoring his first 20 off 11, he fell for 29 off 23.
Lynn-sane match-up
Lynn waited for Dan Lawrence to get set and then pulled the trigger on the Power Surge at the start of the 12th over. Sams bowled a decent first over with the exception of one length delivery that Lynn clubbed 20 rows back over square leg. But Ferguson gambled with the second Power Surge over. Leg-spin is the right match-up for Lynn but he went for the teenager in Sangha, who had bowled beautifully in his first two overs, rather than Cook who is regularly used in the powerplay. The price was two sixes and a four as Lynn feasted on Sangha's missed lengths and slower pace. The first six was Lynn's 150th in the BBL and the boundary brought up his half-century off 31 balls. When the field spread again, Lynn slowed down again against the spinners and eventually fell for 69 from 44. But Wildermuth produced a stunning cameo just a day after scoring an unbeaten century for Australia A against India. His 31 off 11 balls included four towering sixes, although Sams delivered three dot balls on the last three balls of the innings which were significant.
Wonderous Wildermuth
Riding a wave of confidence, Wildermuth tore through the Thunder top order. He clean bowled Hales with a skillful off-cutter second ball of the innings and forced a mis-hit from Ferguson four balls later. Wildermuth then nicked off Khawaja in the third over to leave the Thunder reeling at 3 for 22. Lynn decided to let Wildermuth bowl his four overs straight and he finished with figures of 3 for 23.
Sams salvages the game after a Boost bungle
At the end of Wildermuth's spell, the Thunder needed 30 from 18 balls for the Bash Boost point. Baxter Holt and Alex Ross had simply been rebuilding but Ross injured his groin and it was decided he should have a crack at the competition point on offer. He smashed three boundaries off Ben Laughlin, reducing the equation to just 9 off 6 balls for the point. But they made a mess of 10th over with Mujeeb Ur Rahman picking up Holt, and then Ross and Ben Cutting bunting two singles from the over. When Ross fell in the 11th over the game looked in hand for the Heat with the Thunder needing 97 from 54 with five wickets in hand. But Sams had other ideas. He producing the most outrageous ball-striking of his career to get the Thunder home with eight balls to spare. He struck seven enormous sixes and was particularly savage on Laughlin, who continued to bowl length balls and full tosses into his hitting arc. Sams iced the game with three consecutive bombs, with the last a towering blow over cover, his only one over the off side.