Michigan Wolverines has two former players still alive in the NBA Playoffs, and things are heating up.
Trey Burke, Tim Hardaway Jr. and the No. 5-seeded Dallas Mavericks are looking to advance to the second round by beating the fourth-seeded Los Angeles Clippers in game seven of their first-round series Sunday (3:30 p.m. ET on ABC). The winner of the game will move on to face the top-seeded Utah Jazz in the second round.
The Mavericks had the chance to put the series to bed Friday night, but fell at home, 104-97. Game seven is in Los Angeles, but it's important to note that the road team has won every game in the series to this point, which is the first time that has ever happened for a series of this length.
RELATED: Michigan Wolverines Basketball ITF EXTRA: On Ty Rodgers' Visit
RELATED: Michigan Basketball Recruiting: Futurecast For Trimble, Several Updates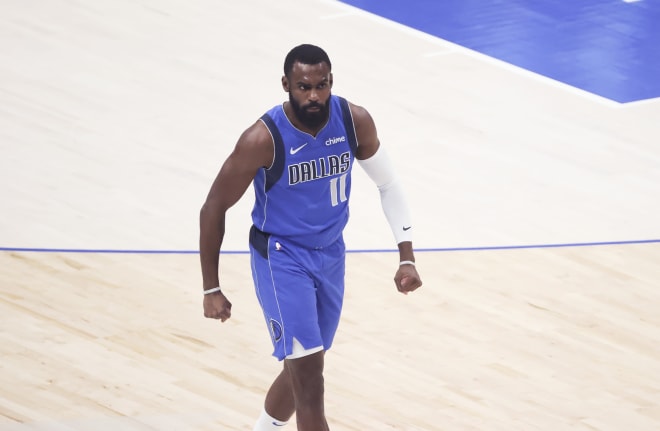 Burke has appeared in just one game during the series. He notched one point, one rebound and one assist in nine minutes during a blowout loss in game four.
Despite not making much of an impact during the postseason thus far, Burke was a key role player for the squad in the regular season. The Columbus, Ohio, native appeared in 62 contests (out of 72; the season was shortened this year), averaging 14.7 minutes per game. He recorded 6.6 points and 1.3 assists per tilt, while shooting 42.8 percent from the field and 35.4 percent from long range.
Hardaway, on the other hand, has been key to the Mavericks' postseason success. He has scored 20 points or more in three of the six contests so far, and is connecting on 44 percent of his looks from three-point range.
He has been a factor on several playoff teams during his career, but never as much as now. For context, he had only scored 20 or more points in a postseason game twice before this year's playoffs.
The Mavericks' starting shooting guard, Hardaway scored 21 points and shot 5-of-9 from beyond the arc in a game one win, before posting 28 points and five assists in a game two triumph. His six threes on eight attempts in that one led all shooters, and he finished second on his squad in points, behind only star guard Luka Doncic.
Hardaway scored a combined 16 points in games two and three — both losses — before helping lead the Mavericks to a five-point victory, 105-100, in game five. He played 45 of 48 minutes, and scored 20 points, while also adding seven rebounds and two assists.
In the game six setback, Hardaway scored 23 points and hit four three-pointers on 11 attempts.