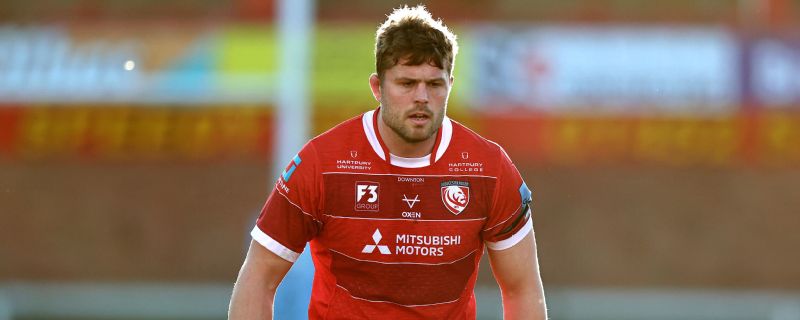 Gloucester lock Ed Slater has said he "doesn't think too far into the future" after being diagnosed with motor neurone disease (MND).
Slater, 34, started feeling muscle twitches in his arm 11 months ago and announced at the end of July that they were as a result of MND.
He immediately retired from rugby despite continuing to play when the twitches initially appeared. However, they were soon happening 24/7 and he was unable to carry on.
"It was month after month, my arm got weaker and weaker, my grip became weaker and I went to Oxford and was diagnosed with MND," Slater told BBC.
"Part of me had prepared for that, partly because of the weakness and partly because of the symptoms.
"I know very close friends of mine who have lost a family member to it, was able to speak to them about his experiences and so I prepared myself.
"I'm not saying that makes it easier when you're diagnosed — it absolutely doesn't — but in some ways it had been 11 months of torment, different symptoms, not knowing, looking for different reasons, and to have definitive diagnosis — it sounds strange to say this — but at least it gave me an answer.
"Not an answer I wanted but I can't change it. My attitude is to get on with things. There are difficult things in life, not many things harder than that, but you have to face challenges head on.
"I don't think too far into the future and I take each day as it comes. I find that's a peaceful place for me and keeps me in best spirits as I can."
MND is a degenerative condition which affects nerves in the brain and spinal cord. High profile rugby union and league players to have been diagnosed with the condition include former league player Rob Burrow and ex-Scotland lock Doddie Weir both being diagnosed with it.
Slater has began to take steps to ensure he is still able to communicate when the disease gets worse by recording his voice.
"It was almost like in that moment a line had been drawn which I hadn't prepared for," he said.
"Suddenly time had sped up and that was the difficult bit, but in some ways it gives me a focus [for] how I can help the family, create as little work as possible for them as things change."
Slater has played in Australia and England during his career. In 2010 he moved to Leicester where he spent seven years, winning the 2012-13 Premiership title and being made captain.
He joined Gloucester in 2017 and made 78 appearances for the club.
"I feel like I'm fighting against something that is progressing," he added. "But I've got to be conscious not to be waking up each day looking for something to be worse.
"I've got to take each day as it comes but there are signs. When I spoke to the players here [at Gloucester] I said I need normality. I won't shy away from it but at the end of the day I'm a normal person."