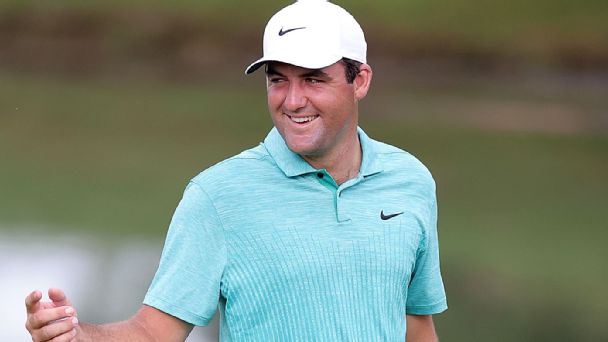 The field is set for the 2022 Tour Championship, as the original 125-player FedEx Cup playoff roster now sits at just 29 contenders. An $18 million purse awaits the winner of the season-ending event at East Lake Golf Club in Atlanta.
Main feed: Primary tournament coverage featuring the best action from around the course.

Featured groups: Coverage of two concurrent selected groups.

Featured holes: A full look at a scenic, pivotal or iconic hole.
Here is how to watch the Tour Championship:
All times ET
Thursday
Main feed
11:30 a.m. – 1 p.m. | Watch here
Featured holes (Nos. 2, 9, 15 and 17)
12 p.m. – 1 p.m. | Watch here
Featured Group 1
1 p.m. – 6 p.m. | Watch here
Featured Group 2
1 p.m. – 6 p.m. | Watch here
Featured holes (Nos. 2 and 15)
1 p.m. – 6 p.m. | Watch here
Featured holes (No. 9 and 17)
1 p.m. – 6 p.m. | Watch here
Friday
Main feed
11:30 a.m. – 1 p.m. | Watch here
Featured holes (Nos. 2, 9, 15 and 17)
12 p.m. – 1 p.m. | Watch here
Featured Group 1
1 p.m. – 6 p.m. | Watch here
Featured Group 2
1 p.m. – 6 p.m. | Watch here
Featured holes (Nos. 2 and 15)
1 p.m. – 6 p.m. | Watch here
Featured holes (Nos. 9 and 17)
1 p.m. – 6 p.m. | Watch here
Saturday
Featured Group 1
12:30 p.m. – 7 p.m. | Watch here
Featured Group 2
1 p.m. – 7 p.m. | Watch here
Featured holes (Nos. 2 and 15)
1 p.m. – 7 p.m. | Watch here
Featured holes (Nos. 3 and 17)
1 p.m. – 7 p.m. | Watch here
Sunday
Featured Group 1
11:30 a.m. – 3 p.m. | Watch here
Featured Group 2
12 p.m. – 4 p.m. | Watch here
Featured holes (Nos. 2 and 15)
12 p.m. – 4 p.m. | Watch here
Featured holes (Nos. 9 and 17)
12 p.m. – 4 p.m. | Watch here
Featured Group 1
4 p.m. – 6 p.m. | Watch here
Featured Group 2
4 p.m. – 6 p.m. | Watch here
Featured holes (Nos. 2 and 15)
4 p.m. – 6 p.m. | Watch here
Featured holes (Nos. 9 and 17)
4 p.m. – 6 p.m. | Watch here