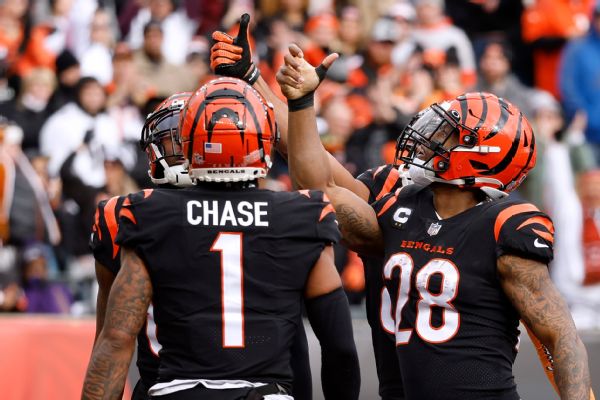 CINCINNATI — In case it wasn't clear enough, Bengals running back Joe Mixon reminded everyone how those in Cincinnati feel about coin flips.
Mixon trolled the NFL with a coin flip touchdown celebration following his score in the first quarter of Sunday's game against the Baltimore Ravens. After Mixon scored on a 1-yard touchdown run, he pulled a coin out of a glove and flipped it in the end zone, followed with an emphatic kick through the air after it landed.
The celebration comes on a day when Cincinnati could lose a potential home playoff game with a coin flip. On Friday, the NFL approved a resolution from the competition committee that states the site of a potential Baltimore-Cincinnati wild-card game could come down to a coin flip. The changes were made after Monday's game between the Bengals and Buffalo Bills was canceled because of Bills safety Damar Hamlin's cardiac arrest.
Cincinnati's players, coaches and the front office were all incensed about the possibility of Cincinnati not playing a home game at Paycor Stadium despite winning the AFC North title.
On Thursday, Mixon tweeted out a section of the rule book that pertained to playoff seeding in the wake of canceled games. Bengals executive vice president Katie Blackburn sent a memo to all clubs to vote against the proposal that was eventually approved, according to ESPN's Seth Wickersham. And on Friday, Bengals coach Zac Taylor lashed out about the rule changes.
"But it seems like there's positives for a lot of teams and just negatives for us," Taylor said. "So we have the opportunity to play for a coin flip. That can only negatively impact us. We don't have the opportunity to play for a coin flip that will positively impact us."
All the consternation and the rule changes were trending toward being moot early on Sunday afternoon. One drive after Mixon scored, Bengals quarterback Joe Burrow found wide receiver Ja'Marr Chase for a 26-yard touchdown to give Cincinnati a 17-0 lead with 14:06 left in the first half.
If the Bengals beat the Ravens, they will host a wild-card game at home. The coin-flip scenario comes into play if the Ravens win and the Chargers win in Denver. The Ravens and Chargers have identical records, but Los Angeles would get the No. 5 seed, while Baltimore would get a third game against Cincinnati. The reward for the No. 6 seed Ravens sweeping the Bengals, yet losing the division title, would be the coin-flip opportunity to host third-seeded Cincinnati in the playoffs. Had the Bills-Bengals game been played to completion and Buffalo won, the Week 18 game between Baltimore and Cincinnati would have been for the AFC North championship.
The coin flip, if necessary, will be held after the game, but before the Chargers' game.