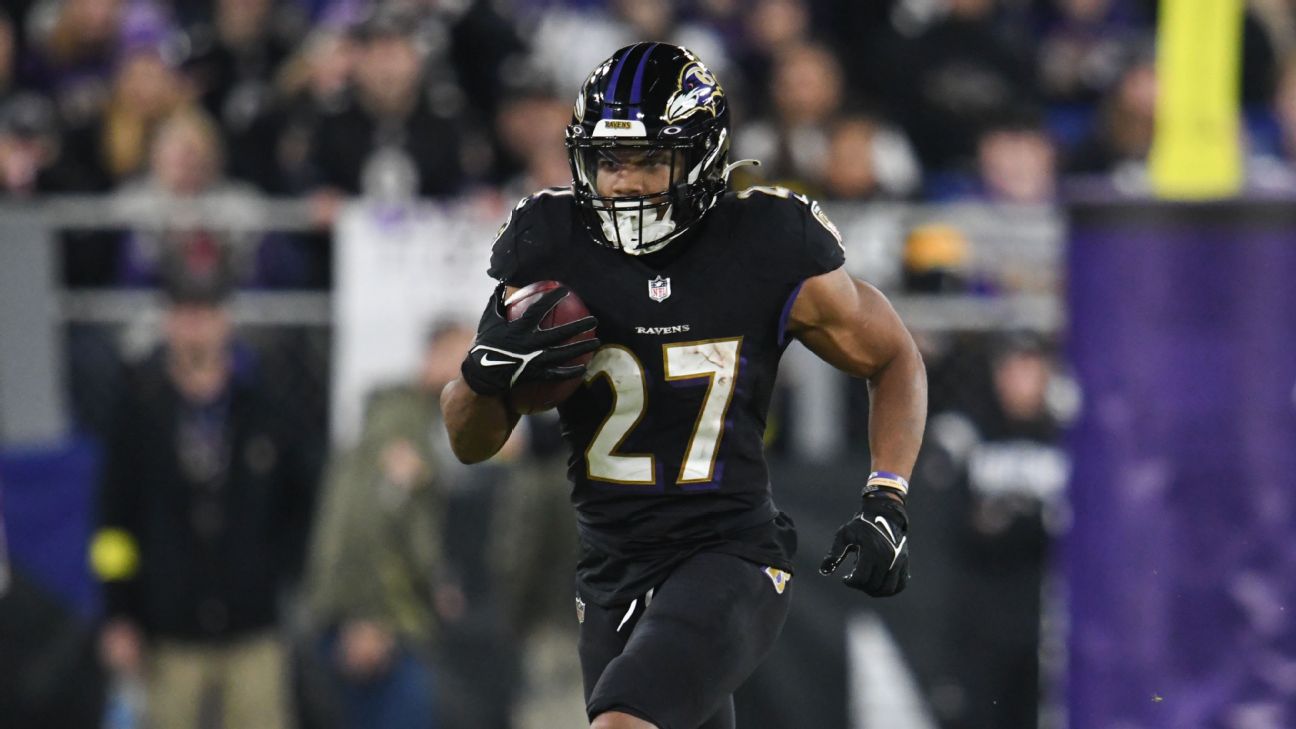 CINCINNATI — The Baltimore Ravens could have a different look on offense in Sunday's regular-season finale against the Cincinnati Bengals.
The Ravens will rest running back J.K. Dobbins and wait until pregame warmups before determining a starting quarterback, a source told ESPN's Adam Schefter.
Baltimore (10-6), which has already clinched a playoff spot, can't win the AFC North but still has a chance to host a postseason game next week as a result of how the NFL handled the unbalanced schedule created by the cancellation of the Bills-Bengals game after Buffalo safety Damar Hamlin's cardiac arrest.
If the Ravens beat the Bengals (11-4) on Sunday and then face them in the wild-card round, a coin flip will determine whether the game will be played in Baltimore or Cincinnati. Baltimore, which is currently the No. 6 seed in the AFC, can move up to the No. 5 seed if it beats Cincinnati and the Los Angeles Chargers lose to the Denver Broncos.
The biggest question mark for the Ravens is at quarterback. Lamar Jackson (knee) has been ruled out for the fifth straight game, and backup Tyler Huntley is questionable with tendinitis in his right shoulder after starting the last four games.
Huntley did not throw much at all this week, but Ravens coach John Harbaugh said Friday that there was "a really good chance" that Huntley would play. If Huntley can't play, Anthony Brown would become the third undrafted rookie to make a start for the Ravens, joining Huntley and Anthony Wright. Brown took the first-team reps in practice this past week.
The Baltimore offense has struggled mightily in Jackson's absence. In four games without Jackson, the Ravens have averaged 12.3 points per game (second-worst in the league), totaling an NFL-low three touchdowns.
The Ravens would have an added challenge without Dobbins. Since coming off injured reserve four games ago, Dobbins has led the NFL in rushing with 397 yards. He has acknowledged that he's not at full strength and hasn't regained his breakaway speed after missing all of last season with torn ACL, LCL and meniscus in his left knee.
Asked Thursday if he would be fine with not playing Sunday, Dobbins said: "It's all up to the coaches."
Without Dobbins, Baltimore would rely more on Gus Edwards, who only carried the ball three times for two yards last game. Harbaugh said last week that there's "really no excuse" for Edwards' reduced role.
The Ravens, who are nine-point underdogs, are 3-36 (.077) outright when being underdogs by seven or more points, according to ESPN Stats & Information research — the worst record of any team since the 1970 merger.