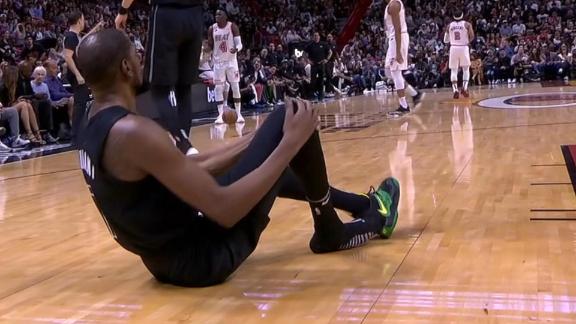 MIAMI — Brooklyn Nets star forward Kevin Durant injured his right knee in the third quarter of Sunday's game against the Miami Heat and has been ruled out.
The injury occurred with 1:05 left in the third quarter as Heat swingman Jimmy Butler went to the rim and got his shot blocked by Nets big man Ben Simmons. Simmons fell back into Durant's knee and Durant stayed on the ground for a few moments but stayed in the game.
Durant kept rubbing at his knee up and down the floor and had to be taken out when the Nets took a timeout about 30 seconds later. Durant immediately walked straight back to the locker room to get checked out and did not return.
While it remains unclear how serious this injury is, this isn't the first time Durant and the Nets have dealt with a knee issue.
Durant injured the MCL in his left knee during a Jan. 15 win over the New Orleans Pelicans and had to miss over 1½ months while rehabbing the injury. During his rehab, the Nets, who were 27-15 at the time and still playing with Kyrie Irving on a part-time basis because of the New York City vaccination mandate, went on an 11-game losing streak and were 5-17 in Durant's absence.
Durant has vaulted himself into the MVP conversation this season after averaging 30 points. 6.8 rebounds and 5.4 assists.