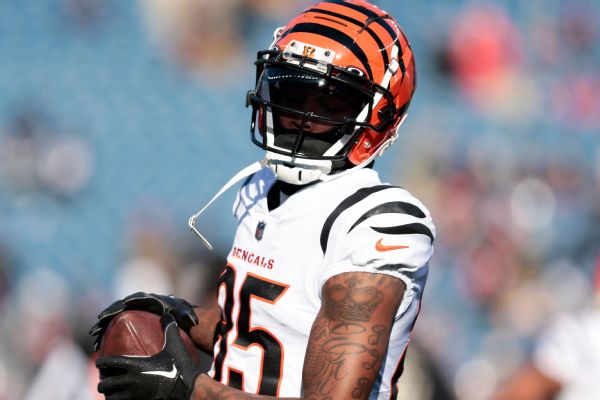 CINCINNATI — Cincinnati Bengals wide receiver Tee Higgins will be available for Sunday's wild-card playoff game against the Baltimore Ravens, coach Zac Taylor said Friday.
Higgins had a midweek scare when he missed Wednesday's practice because of an illness. The symptoms only lasted one day and he returned to practice on Thursday, where he was a full participant.
"I had bad body aches," Higgins said Thursday, "Symptoms that I ain't ever seen before, I ain't ever had before. I wasn't feeling great. But I felt a lot better today and was able to go out there and run some routes. Felt great. Felt like I never really felt a practice."
Taylor said Higgins, who was a full participant at Friday as well, felt good following the illness symptoms earlier in the week. The fourth-year coach said common sense has prevailed in situations where team personnel have dealt with illness this season, the first since the league returned to normal protocols after two years of restrictions related to COVID-19.
"You don't want guys to get it," Taylor said of any illness. "So if someone's got it, you try to keep them away. We've had staff members that have missed a day of work for the same reason, just to be smart."
Higgins has played in all 16 games this season despite dealing with various injuries. Most notably, he snuck onto the field for one play on Week 13 against the Cleveland Browns despite dealing with a hamstring injury.
Despite those setbacks, Higgins posted his second consecutive 1,000-yard season. He finished with 74 catches for 1,029 yards and a career-high seven touchdowns. Taylor had high praise for the third-year player out of Clemson.
"He's an elite playmaker in this league and works his tail off," Taylor said. "It all makes sense to him, so he can adjust like we need him to. Again, there's just been so many times he's had 1-on-1 opportunities and he always makes the play."
Bengals cornerback Cam Taylor-Britt is also expected to play on Sunday against the Ravens (10-7). Taylor-Britt, a rookie who has started the last nine games in place of Chidobe Awuzie, was limited throughout the week with a groin injury. He was upgraded to a full participant at Friday's practice, confirming Taylor's belief that there will be no issues with Taylor-Britt's availability.
In the last five games, Taylor-Britt has shown significant progress. He has allowed 15 receptions on 30 targets as the nearest defender, according to NFL Next Gen Stats. The 2022 second-round pick out of Nebraska also has five pass deflections during that span.
"He gets better each week and learns some things each week," Bengals defensive coordinator Lou Anarumo said earlier in the week. "But I like where he's heading and thank God we got him."