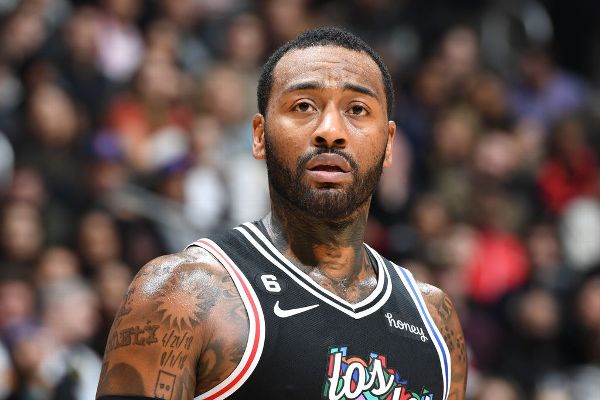 LOS ANGELES — The LA Clippers could be getting Paul George back from injury soon but they will not have John Wall for at least two weeks.
The Clippers ruled George (right hamstring), Marcus Morris Sr. (left knee contusion), Luke Kennard (right calf) and Wall (abdomen) out against the Houston Rockets on Sunday morning. But the team said George, Morris and Kennard are considered day-to-day moving forward.
Wall, though, won't be evaluated again for another two weeks after he suffered the abdominal injury during the Clippers' 115-103 loss to the Denver Nuggets. Wall felt something in his abdomen after he threw down an explosive dunk in the fourth quarter.
"I haven't jumped like that when somebody contested me in probably like three years to be honest," said Wall, who had only played in a total of 40 games in his previous three seasons. "… I think I just stretched it as much as I could when I dunked it."
George missed his fifth straight game since re-aggravating a right hamstring injury that previously kept him out of seven straight games earlier this season. Kennard missed his fourth consecutive game after re-aggravating a calf injury that previously cost him nine straight games earlier this season.
Clippers coach Ty Lue said he will turn to former starting point guard Reggie Jackson to take over Wall's backup point guard role. Jackson had recently fallen out of the rotation after Lue inserted Terrance Mann into the starting lineup on Jan. 6 against Minnesota.
Wall has averaged 11.4 points, 5.2 assists and 40.7% shooting in 22.2 minutes per game this season.
"Kind of tried to find a rhythm," Wall said of his injury coming after having 16 points and seven rebounds in 29 minutes, matching his season high. "And then also [my] minutes [restriction] moved up, so it's definitely frustrating for sure."