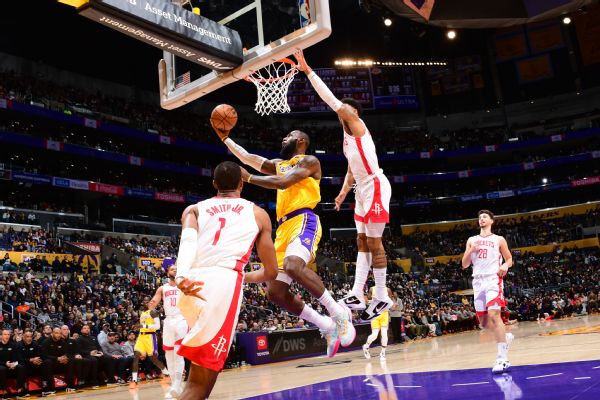 LOS ANGELES — Twenty years after LeBron James was the No. 1 overall pick in the NBA draft, the No. 3 selection in the league's most recent draft — Houston Rockets forward Jabari Smith Jr. — told the Los Angeles Lakers star something to make him feel his age.
"Hey," Smith said in a video captured by the NBA TV cameras during the Lakers' 140-132 win on Monday night, "you played against my dad your first NBA game ever."
The 19-year-old Rockets rookie's father, Jabari Smith Sr., was indeed on the Kings' roster when James made his regular-season debut with the Cleveland Cavaliers on Oct. 29, 2003, in Sacramento.
The elder Smith was 26 years old back then, and James was just 18.
Now that James is 38, these types of intergenerational basketball connections are, well, becoming old hat.
"It made me feel extremely old when Junior told me that," James said after the game. "I think he even said it like, 'You probably feel old.'"
Smith said the anecdote might have been a little unsettling for the four-time MVP.
"He was kind of mad because he said I made him feel old," Smith said after the game. "I knew I was going to tell him that; just something my dad had told me. I didn't really know. That's just a great stat."
James wasn't too mad, however, to share a hug with Smith on the court after the game — or to have one of his finest nights of the season for the Lakers.
James scored a season-high 48 points on 16-for-26 shooting (including a 5 for 10 mark from 3 and 9-for-10 on free throws) with nine assists and eight rebounds, helping to snap L.A.'s three-game losing streak.
He continues to zero in on Kareem Abdul-Jabbar's all-time scoring record of 38,387 points, upping his total to 38,072.
And James did so while playing 36 minutes on the second night of a back-to-back.
"I was extremely exhausted today, extremely tired," James said. "Body was sore from the battle that we had yesterday versus Philly. I guess once I stepped on the floor for warmups and the crowd fills in, it's my job to go out and play the best way I can."
There was another father-son career lineage playing out for James on Monday at Crypto.com Arena, with him matching up against Kenyon Martin Jr. while Martin's father, who played 15 season in the NBA, sat courtside.
Making that connection even wilder? The fact that Martin is an alumnus of Sierra Canyon High School, the same school that James' sons Bronny and Bryce attend.
"I've just been extremely blessed to be able to play this game and to be able to touch multiple generations," James said.
James also has played against Gary Payton and Gary Payton II; Rick Brunson and his son, Jalen Brunson; and Gary Trent Sr. and Gary Trent Jr.
James has played against the Memphis Grizzlies' Ziaire Williams, one of Bronny's high school teammates, and he plays with another of Bronny's former teammates, Scotty Pippen Jr., on this season's Lakers. James played on the same team with Shannon Brown at the start of his career in Cleveland as well as with his little brother, Sterling Brown, whose 10-day contract with the Lakers just expired over the weekend. James' first nationally televised game in high school featured Bill Walton as an analyst, and during his first season in L.A., James was coached by Walton's son Luke.
Additionally, Rockets coach Stephen Silas is the son of James' first NBA coach with the Cavs, the late Paul Silas.
"It's just a unique thing that I've been able to withstand the test of time for as long as I've been playing, to be able to compete now versus father-and-son combinations," James said.