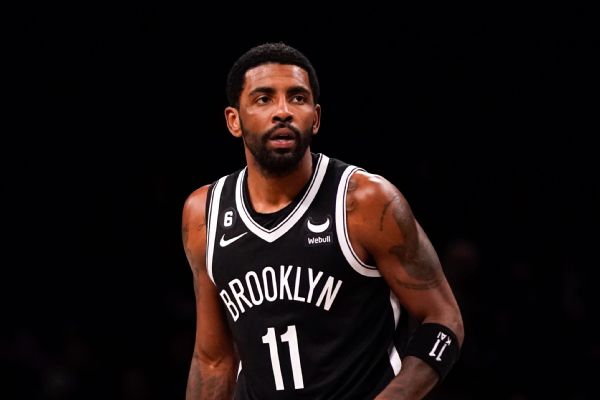 SAN ANTONIO — Brooklyn Nets guard Kyrie Irving will not play Tuesday against the San Antonio Spurs because of right calf soreness.
Nets coach Jacque Vaughn said he does not think the injury is serious and that he is hopeful Irving will be able to play in Thursday's game against the Phoenix Suns. Vaughn said Irving will not need an MRI.
"Just reported a little tightness," Vaughn said before Tuesday's game. "It's essentially just day to day. We'll check on him [Wednesday], and hopefully this is short-term."
Seth Curry will start in Irving's place.
Irving's absence looms larger for the Nets right now, given that they continue to play without star forward Kevin Durant, who is expected to be out several more weeks because of a sprained MCL in his right knee. Durant did not accompany the Nets on this road trip as he continues his rehab.
"They all have to, cliche, pick up their games and rise to the level," Spurs coach Gregg Popovich said before the game. "But really what it does, it's just like when you have someone out that's hurt, it narrows the margin. You have a narrow margin for error. You can't turn it over as much. Your transition defense has to be better … defense has to pick up. Team defense has to be more aware.
"The ball probably has to move more because everybody's going to participate. Everybody's got to score. They run the same offense, except with Kevin it's an offense by itself."
The good news for the Nets is that Ben Simmons will return Tuesday after missing Sunday's loss to the Oklahoma City Thunder because of back soreness. Vaughn said Simmons' back is feeling good.
Vaughn said his job description for Simmons, and the rest of the team, doesn't change despite the fact that they are playing without Irving and Durant.
"You don't have to do any more than what's been asked of you from day one, and that fits for [Simmons] as well," Vaughn said. "For him to push the pace, for him to rebound the basketball on both ends of the floor, for him to get his teammates involved and for him to give every ounce of energy that he has. That he is depleted by the end of the night because he played so hard. If he does that, we'll be in good shape."